Next rider up….
Name; Stephen Fraser
Age; 48 1/2
Occupation: Area Ops Manager and UK Athletics Endurance Coach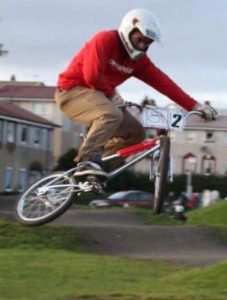 How's training going so far?
So far I'm happy with it, gaining confidence each day on each climb. A lot of weekends spent doing back to back long rides with evenings after work on the Turbo trainer and trying to suss out diet during and after. You need Saddle time for your Butt and learning to relax on the bike remembering to hydrate every so many miles a bottle every 50miles seems to be working for me. Oh and not to rush my food as I puked eventually at the end of a double back to back 100 mile ride last week
🤫
Reasons for taking part?
I've known the family for quite some time through the road runners and have run with Susan and I love what they are planning to do so I really wanted to help. To be fair anyone that knows me I'll say yes to a challenge and worry about how I'll do it later. Life's about living and opportunities to experience life no matter how small or big the challenge and everyone should say yes more you never know where it may take you. Now currently convincing my brain this is doable as the pain thresholds become a daily occurrence.
What are you looking forward to on the ride?
The adventure of it all, anything could happen and probably will which will give us stories to share for ever. A week off work and no kids is the obvious answer. Eating, I love eating and i'll burn 300 calories a hour and we are cycling for a minimum 10 hours a day weather dependant, that's a lot of pizza and ice creams
🤣
What are you least looking forward to?
Wind rain and pain along with hills and stomach upsets as your asking your body to process energy daily with no let up or rest. I'm the oldest rider in the team so don't want to let the youngsters down. Sharing a room at night with someone who snores and farts. Can't forget sleeping in, I do it a lot and end up having to catch the guys up. So don't want to be 2 hours behind
🤦🏻‍♂️.
Thanks for reading and no matter how much you can give donate as all monies is going to the cause and appreciated by us all and the family. The just giving link is just below the link of what the family have gone through and are going through so follow this link donate to Hamish's legacy and follow us on here as we progress thanks for reading.
https://m.youtube.com/watch?v=BnaliZSIsBg
https://www.justgiving.com/fundraising/david-nicoll5