Here's our next rider profile….
Name: Russell Gourley
Age: 37 ½.
Occupation: Mechanical Engineer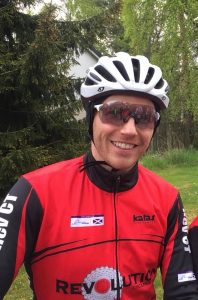 How's training going for the big cycle:
So far so good. It's a long process to get strength and stamina built up to undertake such a challenge, not helped of course by the unprecedented winter weather and flooding we've experience in the North of Scotland this season. There is no substitute for miles in the legs though, every pedal stroke counts.
Reasons for taking part in this challenge:
Almost everyone I know has been impacted by Cancer, whether directly or indirectly. It's almost an 'accepted' part of everyday life. But it doesn't hurt any less when you lose someone close to you, let alone a child. I'm proud to raise awareness and support any way I can.
What are you looking forward to on the cycle:
It's the simple things in life that are the most rewarding. Summer weather, quiet country lanes and soaking in the valley views. But ultimately, as JFK said, 'nothing compares to the simple pleasure of riding a bike'.
What are you least looking forward to on the cycle:
Negotiating unfamiliar roads and interacting with other road users. Not only the most vulnerable, but more so than ever cyclists are possibly amongst the least respected and most hated (even more than the white van man?) users of the road. It doesn't matter whether they are raising awareness for a good cause or simply riding to the shops.
Please donate whatever you can on the link below…
https://www.justgiving.com/fundraising/david-nicoll5
Thanks,
Russell