Last but by no means least for our rider profiles…
Name; Garry Erskine
Age; 46 just…
Occupation: Soldier – British Army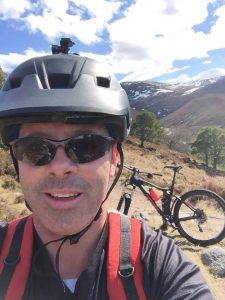 How's training going so far?
The training is mixed.. I've been busy on mountain bike courses which has seen me doing a lot of miles, however the turbo trainer has been getting a lot of abuse!! Not for any other reason other than I get bored on it and start cussing!!
New methods and positions on the bike have helped as the correct set up is essential, and always there is the expert that will pop in to give advice when he is on a shopping trip to COSTCO… Carol thinks its IKEA!! But men know better!!
Reasons for taking part?
My main reason is to do something that I would not even dream off, support to the team and ultimately support to a greater cause. To look at this challenge and to complete at a time of life when others are putting their feet up saying I've done enough, I don't need to do that anymore, doesn't sit right with me, you always need to push the limits to prove to yourself that you can achieve the unexpected. The only person that will be surprised will be you!
What are you looking forward to on the ride?
No snow!! The laughs, comradery, meeting new people and the achievement that we all did it together.
What are you least looking forward to?
Getting back on the bike each morning and going through the first 30 minutes of uncomfort, asking myself and each other what the hell are we doing, who's idea was this, but ultimately knowing who and why we are doing this and the pain and emotion we are going through can never come close to that of Hamish and his family.
Thanks for reading and no matter how much you can give donate as all monies is going to the cause and appreciated by us all and the family. The just giving link is below so follow this link donate to Hamish's legacy and follow us on here as we progress thanks for reading.