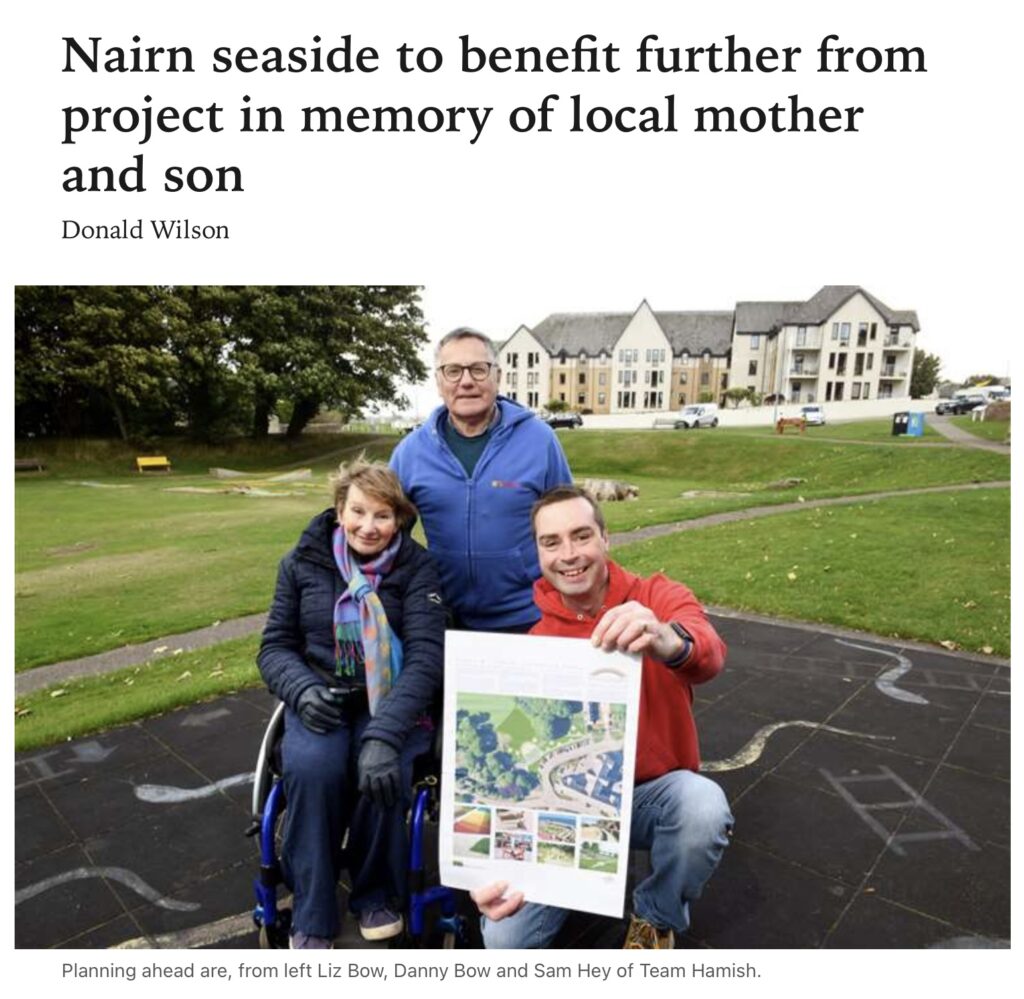 A FAMILY'S campaign to remember a mother and son with a legacy for parents and their children to enjoy the seaside at Nairn enters a new phase next year.
The #TeamHamish appeal raised almost £200,000 which was invested in a new splashpad at the Links in memory of eight-year-old Hamish Hey who died of cancer in 2017.
Sadly his mum Susan also died of cancer in 2020 before she could see the fruits of the fundraising campaign which captured the hearts and the imagination of the local community.
Now plans have been revealed for the second phase of the #TeamHamish project. The masterplan involves revitalising the putting green connecting pathways and the creation of tiered seating for performances which will provide panoramic views across the Moray Firth.
This second phase, along with the holistic masterplan for the #TeamHamish proposals have been designed by Hamish's dad Sam, who is an architect.
"We've now put the plans up online and it is really wonderful to show how we can build on a legacy that's already been created," he said.
"The area of the Links we are redeveloping is currently occupied by the putting
green, mini golf and adjacent banking and grassed areas.
"We aim to revitalise the existing context and utilise the natural environment to
enhance now these areas are currently used.
"The redevelopment will focus on a more integrated and cohesive purpose for both individual contemplation and social interaction through the creation of the
journey of connecting spaces and places."
He told a meeting of Nairn Improvement Community Enterprise (NICE) he would be seeking involvement from the local community in the design, implementation and ongoing maintenance.
"We are already sourcing external funding," Sam said. "Highland Council are supporting the work with the appointment of a project manager."
Sam said they would be looking for schools and community groups to design interactive installations as objects to discover and explore and the new linking footpath would utilise the existing banking, creating terraced seating which could be used for outdoor performances of the arts and for teaching and education.
"Ultimately we believe that these proposals would deliver our #TeamHamish mission principles: 'The creation of places and spaces for the benefit of Nairn's community and visitors, combined with a sustainable legacy for generations to appreciate and enjoy'."
Hamish's granny Liz Bow and grandpa Danny have been heavily involved in raising funds during the appeal.
"We can't give a start date until we get the plans approved and we still have to do some more fundraising," Liz said.
"But the public of Nairn have been tremendous – especially the way they supported the family through the loss of Hamish and then our daughter Susan.
They loved the Links.
"We had Camilla, now Queen Consort here last year opening the splashpad and if all goes well we would hope phase two could be completed next summer."